Stuff Leaders Debate Live Stream 2017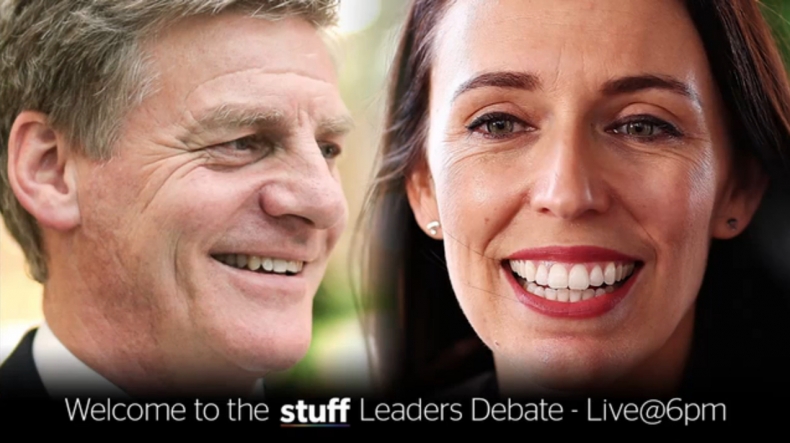 As part of the leader's debate series between the two leading candidates for the upcoming NZ election, Labour leader Jacinda Ardern and National leader Bill English faced off last night at the La Vida church in Upper Riccarton. This debate is the only debate being held like this in Christchurch by The Press and is being live streamed by Tandem Studios. 
The venue holds 600 people. Demand was so high from the readers of The Press, they had to introduce a ballot to allocate the tickets. There was a lot of work done on the venue setup in advance, taking into account the best setup of the stage for the live streaming and the venue audience. A debate is usually a 'town hall' style presentation, but this debate was more focussed around the camera setup to accommodate the live stream audience. The live audience was encouraged to participate without being over dominant or verbally abusive. The audience definitely took advantage of participating, putting both leaders through their paces throughout the whole debate.
The Live Stream 
The debate was live streamed through Stuff's YouTube and Facebook channels, which were embedded on the Stuff.co.nz website. On YouTube alone, the live stream was viewed over 100,000 times and was number 1 on the charts. 
Technical setup
Our technical setup included five cameras, with four pointed at the stage and one pointed back at the crowd looking for their reactions. As part of the debate, South Island editor-in-chief for Stuff Joanna Norris and Chief Political Reporter Tracey Watkins were the two moderators, sharing the stage and questions with the leaders with other Stuff staff. They moderated social media comments and put those feeds onto an in-house screen to make the connection between the online audience and the audience in the venue. From the live stream, Tandem recorded simultaneously and edited each leader's response into bite sized clips which were being shared with other media during the debate. 
The Debate
Stuff wrapped up the debate as a "war of words [reaching] new heights. The two party leaders' clash at the Stuff Leaders Debate in Christchurch on Thursday night traversed old and new issues with unprecedented vigour, egged on by a characteristically rowdy Cantabrian audience." The debate covered many issues for Kiwis and Cantabrians, including housing, child poverty and the future use of the red zone.
Watch Prime Minister Bill English and opposition leader Jacinda Ardern face-off below.
You can watch the full live debate here, and read Newsroom's blog on last night here, "Stuff has partnered with Tandem Studios, which helped put together the Black Hands project, to ensure the technology is as robust as possible."
The elections will be held on September 22nd.